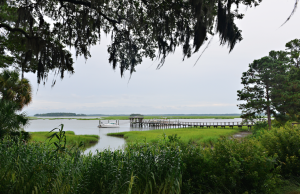 19 Mar 2017
Romantic Wedding Resort at South Carolina
Today's travel pick is from one of our favourite photographers, Donna Von Bruening. She travels the world shooting weddings but specializes in the area she calls home: The South. Here is the hotel she frequents in her down time. It is one our our favorites, too for destination weddings!
"My role as a Savannah-based destination wedding photographer requires to me to best hotels across the South but one in particular owns my heart: Palmetto Bluff  at Bluffton, SC. Not only do I work there often, shooting gorgeous destination weddings, but it is one.   What keeps me coming back? The world seems to slide away as I enter the gate and roll down the 4-mile push, departure a parade of centurion oaks, salt marshes along with tidal creeks before I reach.
The village is centered across the remnants of a 1912 mansion once owned by Richard Wilson, Jr, the rock columns and staircase currently serving as a reminder of a lifetime well-lived. (They also make an awesome background for wedding photo shoots.)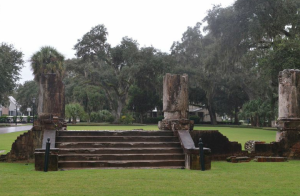 Gaslamp-lit brick streets connect the post office with River House, the gathering point and reception area for the Inn and the chapel, Buffalo's Café .
By the river sits a chapel, which is a favorite for destination weddings –that is why I work here so often!
Spanning 20,000 acres, development balances with landscape that is wild that is preserved, giving you space to breathe and breathe. There are homes for rent but we love to remain in the Inn's cottages.   Inside, the décor is casual, yet elegant Lowcountry luxurious:  whitewashed paneling wood flooring, vaulted ceilings with fans, a gas fireplace, separate dressing area, marble bathroom that is expansive and the best rain shower and steam room on earth, I vow.     I always request a cottage so that I can observe the tides change.
My husband and I have celebrated three anniversaries here, there are bicycles, binoculars and wildlife guidebooks at every cottage encouraging exploration via miles of bike trails or smaller tributaries, and while our period is all about reconnecting and leisure. In the afternoons, we mosey over to the River House for a Southern pastime known as "porchin": Fundamentally, we plop in an overstuffed sofa or sway in a rocker appreciating the home made cookies and lemonade. The lawn fire pit works for this also.
Dining at PB is a nod to the rivers. We love the home made chips and onion dip at Buffalo's, and always order oysters or local shrimp in season.     But for a romantic dinner, then we all like The River House. One evening, I mentioned just how much I really like the rain. After a couple of minutes, he asked us to move tables. So we could watch the storm roll in off the river, to our surprise, he arranged for a personal table on the porch. It was divine!
We wind a dinner around the fire pits with some s am ores Blantons, and our favorite bourbon when the sky is clear.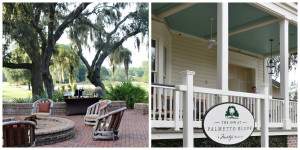 Palmetto Bluff enables us get lost in river life and reconnect with each other. That for me, in a word, is perfection."
They also do destination weddings that are amazing in Palmetto Bluff. Want evidence? Request these two!